Growing supplier, Made For Trade, has unveiled a revamped logo and new website with the aim of increasing brand exposure.
As part of a new, clearer brand identity, the bi-fold door and conservatory roof supplier's new logo contains five colours, each representing one of the company's trade products.
The Made For Trade website has also been updated and redesigned to incorporate the new branding and colour schemes.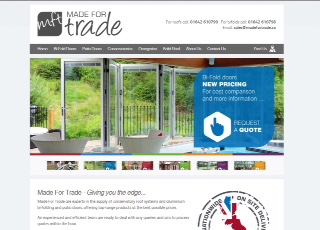 Made For Trade's graphic designer, Ian Bousfield, explained that it was vital for the company to tie all of its products together and develop a consistent brand throughout all its marketing.
"With the development and growth of the company, it's necessary to ensure that the brand remains fresh and adaptable, with the ability to communicate the organisation's products effectively," said Ian.
"Branding is incredibly important in the modern age, with outdated or ineffective communications able to break a company. We have managed to bring Made For Trade's logo, website, and marketing into the present, giving it a dynamic rehaul."
The new website is now live, with details on Made For Trade's key products, the Visofold 1000 bi-fold door, Global conservatory roof, Visoglide Plus patio door, and the Celsius solid roof.
Bradley Gaunt, managing director of Made For Trade, hopes the rebranding will help bring all the company's products in line with each another, whilst also helping to develop the company's image.
He said: "We are now one of the main suppliers in the country and with our range and large customer base expanding daily, it makes sense to tie all products together in our marketing."
(As published in Glass & Glazing Products and the GGP website)